I have posted the following on a number of local sites (from Canterbury, Kent) but thought I would spread the request further afield and to like minded people………
Mum and dad lived in Upper Harbledown, just outside Canterbury, and back in 1987 dad purchased a black 1958 Morris Minor – 539 RMU. My dad's name is John Dearberg and he worked at China Farm, Upper Harbledown.
In 2003 they moved house but remained in the village. There was no dedicated parking for this house so dad had to park the Morris Minor on the road which he was not happy about. Dad would occasionally drive the Morris Minor, but wouldn't go far. It would just be in and around Canterbury.
I believe that sometime around 2011/2012 he moved it into a storage facility. Dad did not mention where the storage facility was. I think this was more because it never came up and he never felt the need, not because he did not want anyone to know where the storage was. Dad had other cars that he drove so where the Morris never came up in conversation.
Unfortunately dad was diagnosed with Alzheimer's some time ago and it wasn't until having to sort through mum and dads house that I came across documentation relating to the Morris Minor which then got me thinking as to where it was. There was no documentation relating to storage or payment for storage or anything that may give an indication as to where dad had stored it. With dad's condition, and although still occasionally remembering the Morris Minor itself, he has no recollection of where the vehicle was stored. As far as I am aware nobody had ever approached mum or dad to say they have the Morris Minor and nobody has ever requested any payment for storage.
I have spoken to dad's old work colleagues, friends and people within the village, but any ideas they had have all drawn a blank. I have checked with the DVLA and it was still registered to dad but I have now transferred it into my name and taxed it. I can't imagine the storage would have been very far away from Canterbury as dad would not have wanted to have driven the Morris very far.
Mum passed away earlier this year and dad is now in a nursing home where he is cared for 24/7. Dad isn't getting any better or younger and I would love to try and re-unite him with the Morris Minor before it is too late. I am putting a shout out to ask EKMMOC members if they have come across our black Morris Minor, and if so to let me know.
Ian Dearberg
Contact email idearberg@aol.com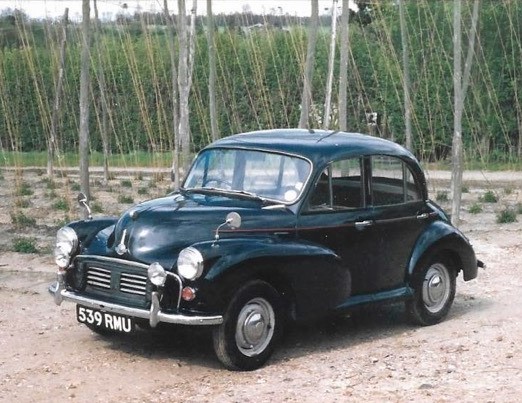 _________________________________________________________
Missing Minor No. 2
1966 Blue 2 door minor JUB 628D
Coincidently, another Morris Minor is also being sought which was last seen in a back garden in the Harbledown area some years ago.
The owner is suffering with Alzheimers and his son Colin Johnson is hoping to reunite his father with his old car. If you know the whereabouts of JUB 628D please contact Colin on 0208 520 2177 mobile 07952 901584.